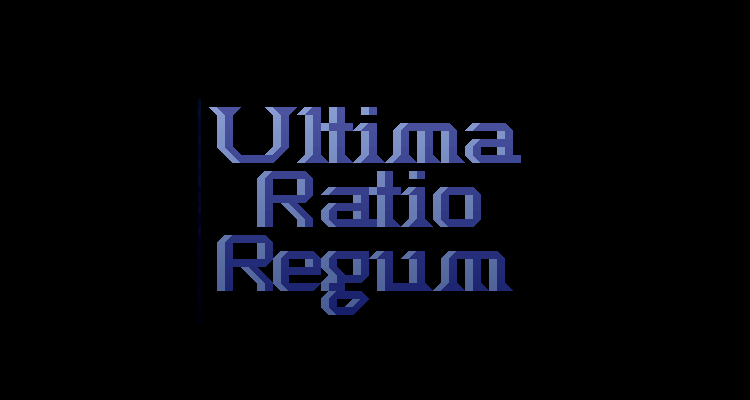 Hello everyone, welcome back! 0.11 continues to crack along at a, er, cracking pace, and I've got a whole bunch of great updates for you this week. The last update was heavily focused on the development of some of the core mechanics, and this week I've gone back to further expanding the world that all these take place in. Here's the current status of 0.11's development, where BLUE denotes something finished and GREEN denotes something currently being worked on:
ITEM INTERACTIONS
You can drop items
You can pick items up

You can use items (whatever that means for the item in question)

You can destroy items (very rarely an item might have something hidden inside it…!)

You can show items (e.g. to someone else)
RELIGIONS
Generate the images for all 25+ archetypes of religious relics, and place them in religious buildings
Update and transform things like religious beliefs, things religions dislike, information about religious histories, holy books, etc

Enable the player to join and leave a religion

Far more complex interactions with priests etc

Develop proper model for "membership" in religions, nations, cults, etc
TREASURE MAPS
Treasure maps spawn in shops just like non-treasure maps do
Zoomed-out treasure maps correctly show relevant locations
Zoomed-in treasure maps correctly show relevant locations (far more complex)
High-value items are, indeed, under the ground where a map points!
These will become, for now, the game's primary objective (rather than, as they will be later, one aspect of many)
MORE OPTMIZATIONS / BUG FIXING / POLISHING
I currently count 48 known bugs / issues – I want this down to 0
Further speed up map generation
Further speed up turn-by-turn rendering
Try to speed up world generation as well?
As ever, if you enjoy these posts, please do think about sharing them around the internet, or on forums, or tweeting it out, or to fellow gamers who might be interested – it takes a heck of a lot of effort to write these things up and I really do appreciate it a ton. (And please do leave a comment!)
Religious relics
Firstly, we have three more procedurally-generated archetypes for religious relics! The first of these is the "bell" archetype where we get bells of various colours, sizes, handles, and a number of other varying factors as well, alongside a core image. These have names such as "The Graven Bell of the Sun", "The Domed Chime of the Moon", or "The Etched Toll of the Clouds". I really like how these look as I think the core object of the bell looks nice, there's a decent amount of variation in size and design (this is clearer in-game than in the diagram below, but it is there) and the symbols and the handles as well as the different materials provide a good amount of larger and more obvious variation as well. This relic archetype has 78,732 possible permutations, and you'll probably normally see around nine or ten of this relic type for the religion it gets assigned to (if any – there are going to be far more relic types than religions in a given generated world). The second is the "cushion" archetype – who says relics only sit on cushions? These I had a lot of fun with, varying their size and their colouration both for the highlight colour (different kinds of gold and silver) and the patterns on the inside, as well as the pairings of colours that the cushions could use to distinguish themselves from each other. These have names like "The Sacred Cushion of [Name]", "The Divine Seat of [Name]", "The Hassock of [Name]", and so on. Again I think these are a lot of fun, and give a nice opportunity to work in some colours to items that we don't normally see (on a side note I'm really looking forward to working these relic archetypes into holy books and into the religious stories they contain!). The final is the "broken blade" archetype, which is definitely based on Andúril from the Tolkienverse. This religion would be one that finds the remains of great weapons to have a lot of sacred or holy value, and these images as you can see vary along the hilt, the blade, the decoration on the hilt and the pommel, and so forth. They have names like "The Splintered Sword of [Name]", "The Crippled Rapier of [Name]", "The Riven Blade of [Name]", and so on.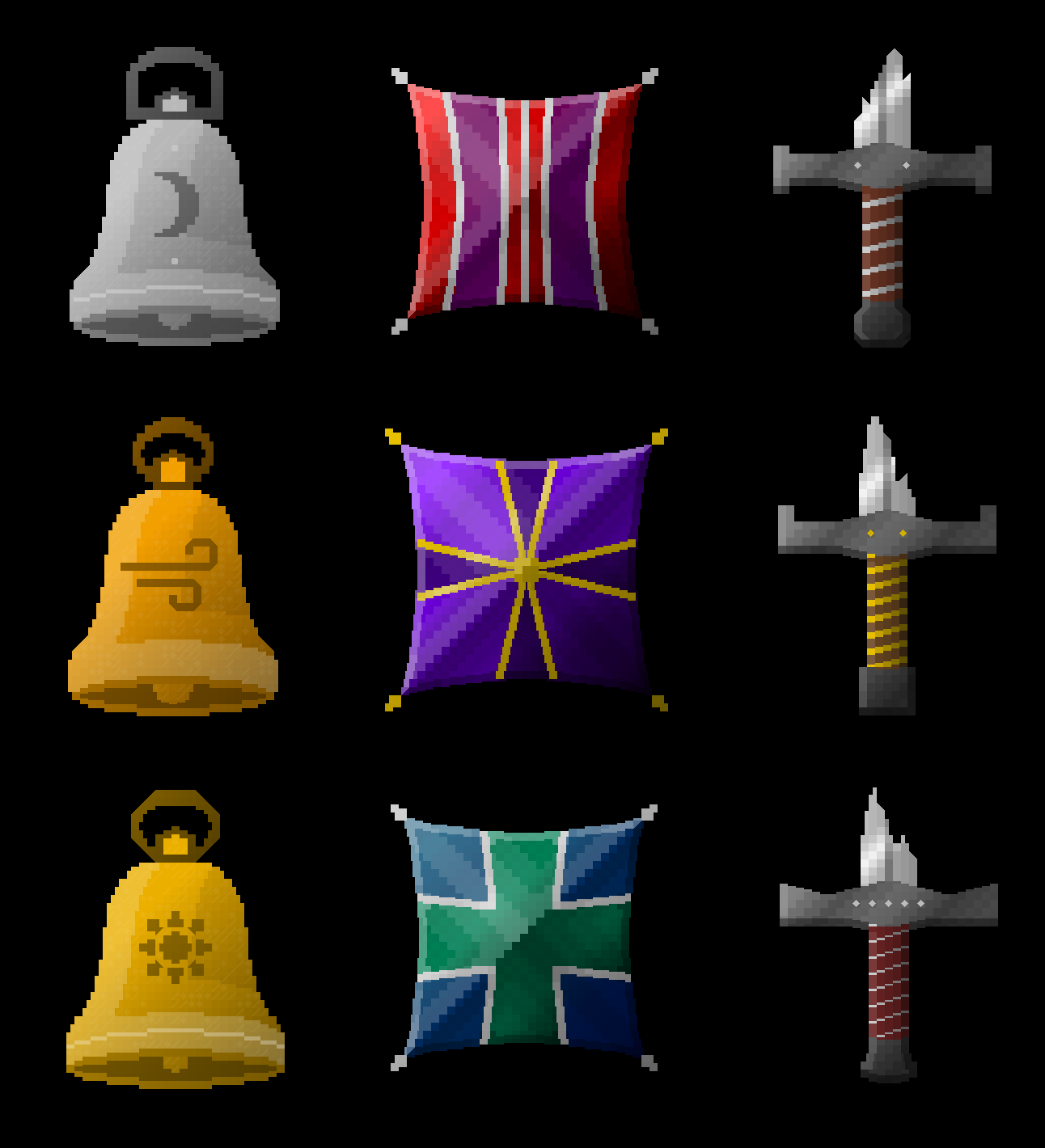 Very happy again with all of these, and we are certainly well past the half-way point on generating each image generators for enough different kinds of religious relic archetypes that every in-game religion will, by the time 0.11 comes out, be able to have its own relic archetype and its own set of relics within that archetype. I'm incredibly excited to see them in-game but it's going to be a very large job transposing them from my graphics file into the game's main code, so I'm going to leave that until they're all done, and then try to get the whole thing transferred over in a coupe of intense busy hours one day. Also, like the previous update where I showed off the various steps in generating the goblets, here's another progress chart showing the development of the "cushion" relic archetype, and the various steps I went through to develop the image generator for these. To be clear though, this is NOT ten steps the generator makes; this is showing the outputs of ten different generators, from the simplest generator that just printed a bunch of strings to the most complex and final generator which could output a full set of possibilities.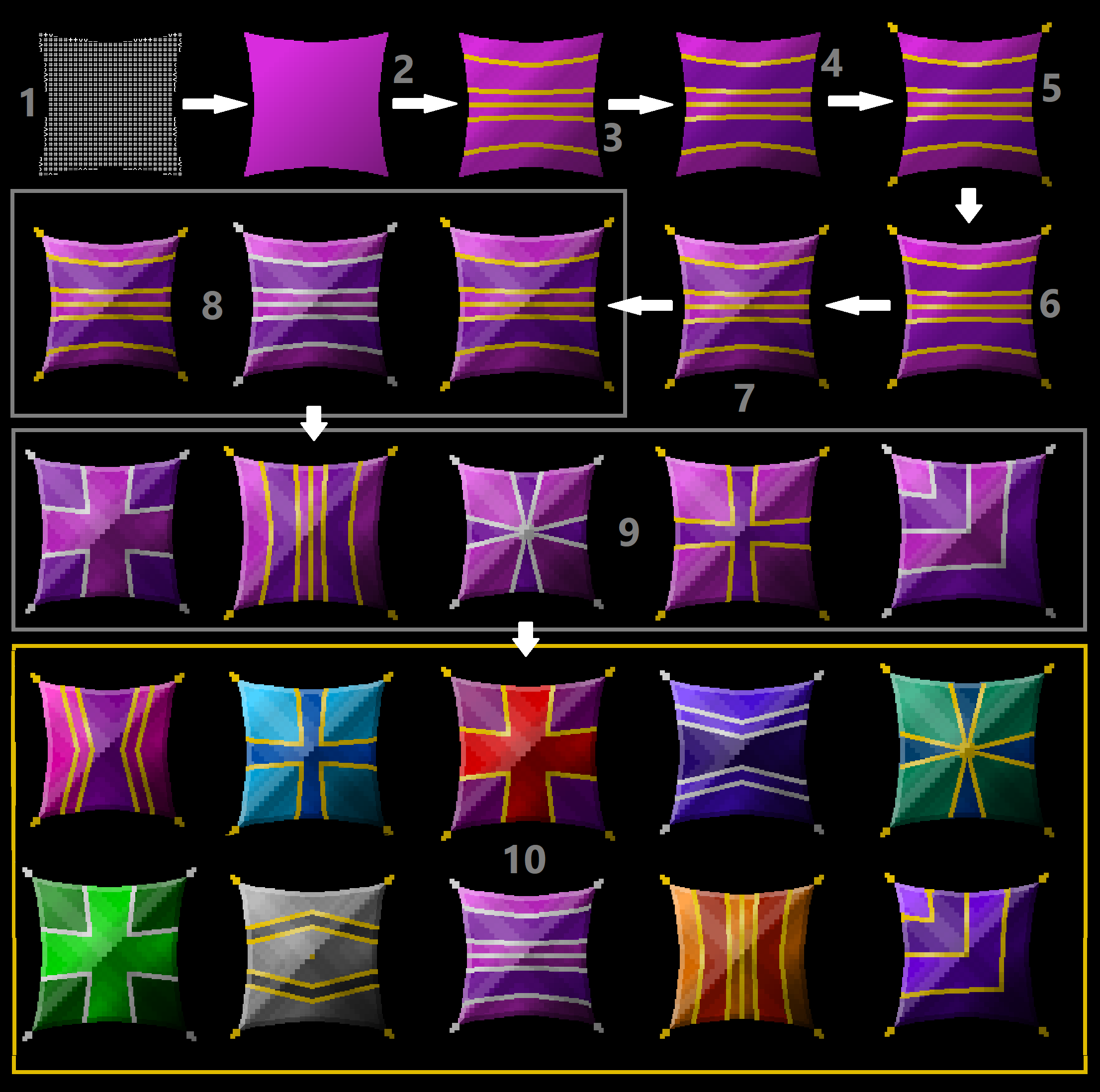 Chasms and abysses
For some time now the polar regions of the world map have certainly been the least interesting. This is partly simply because they are at the edges of the map and are therefore inevitably going to have fewer connections to the rest of the game world, but also because they don't really have much in the way of variation on a tile-to-tile basis (on the world map, I mean). Most areas have various degrees of forest or normal terrain, while the deserts of course have mostly normal terrain but the rare oasis, their very rarity making them appear rather more noteworthy and consequential. The polar regions however can be pretty devoid of stuff, so I thought it was time to address this. Although mountains can go into the polar regions I thought it would be nice to have something unique and distinct to these parts of the map, so I have now added in chasms. These spawn only in the polar regions and cut across multiple tiles, creating a large, well, chasm on the human-scale map which cannot easily be crossed. I'm still not totally clear how climbing mechanics are actually going to work in the long term, but they may well in the future provide actual obstacles without, for instance, some kind of climbing equipment item.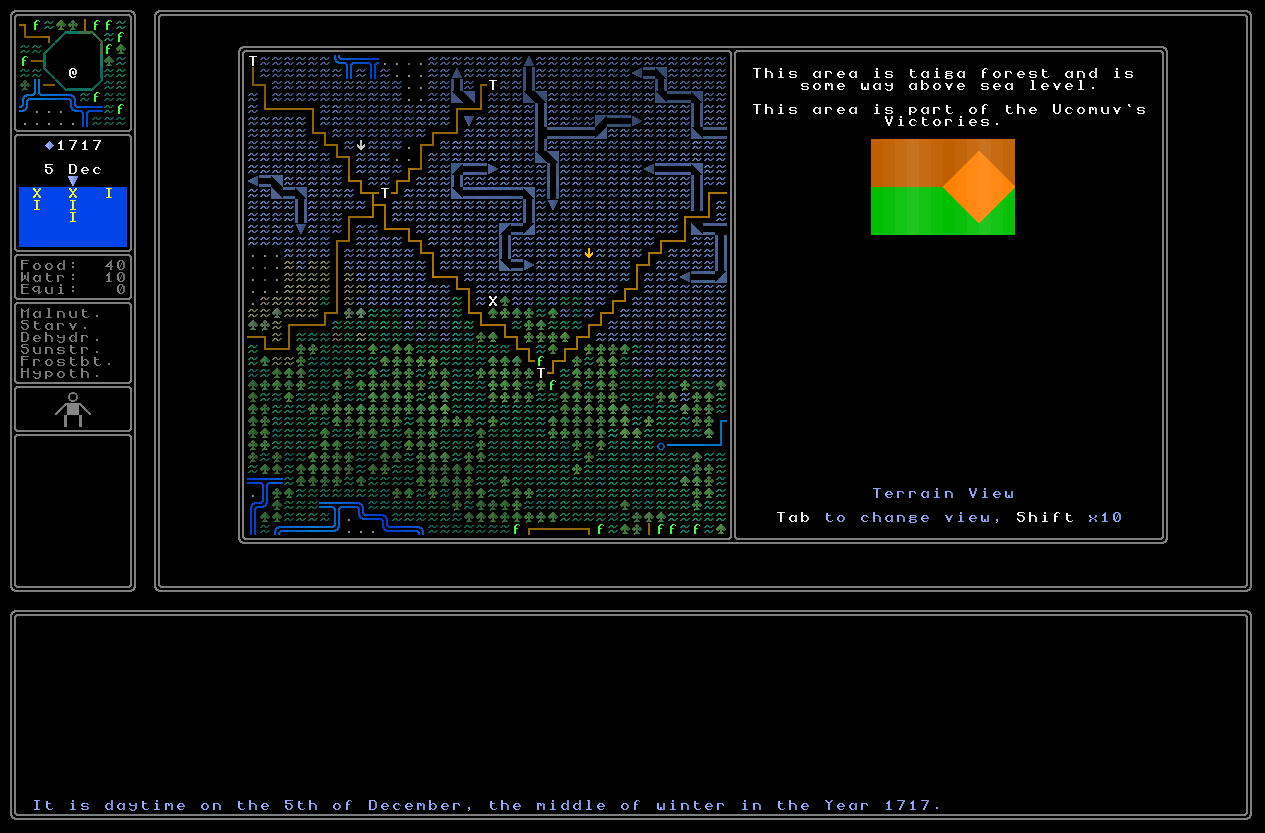 Again though that's all to be decided in the future, as for now the goal is to increase the variation and the increase of the polar regions. I really love how these look! The game starts off trying to spawn long chasms, then medium-length chasms and then short chasms, and also gives each one a decent amount of space from any other chasm as well, although chasms can rarely and under pretty specific generation circumstances connect up to one another as well. They cannot overlap with a tile that has any other features – mountains, rivers, settlements, whatever – but they can overlap with a road as long as the road is a straight line and there's a chasm on both sides of the chasm being roaded over. This means that the game will now generate bridges over chasms which the player can walk over! These again feel like a cool little additional detail and allow me to use some of the existing code for the different heights of things, walking over / under things, and so forth, which are previously only really being used for things like gates within city districts that lead to castles, upper-class homes, and the like.
But, first, when you enter a chasm tile the game now generates an appropriate chasm cutting across that map grid. It selects from a number of organic-looking chasm "tiles" of around 25 by 25 tiles, rotates them appropriately, and then stitches them together to create something that looks natural and interesting. It then fills the bottom of the chasm with three different terrain types – snow, stone, and also a brand new terrain type (the first added in, I don't even know, half a decade?!) called abyss. As you might guess this essentially represents a potentially-endless drop towards things unknown, or to put it another way, towards death. With all these terrain types then added to the bottom of the chasm – abyss tiles are generally just pitch-black, but might have a dot of the darkest grey in them instead, and I confess that I really love how this looks –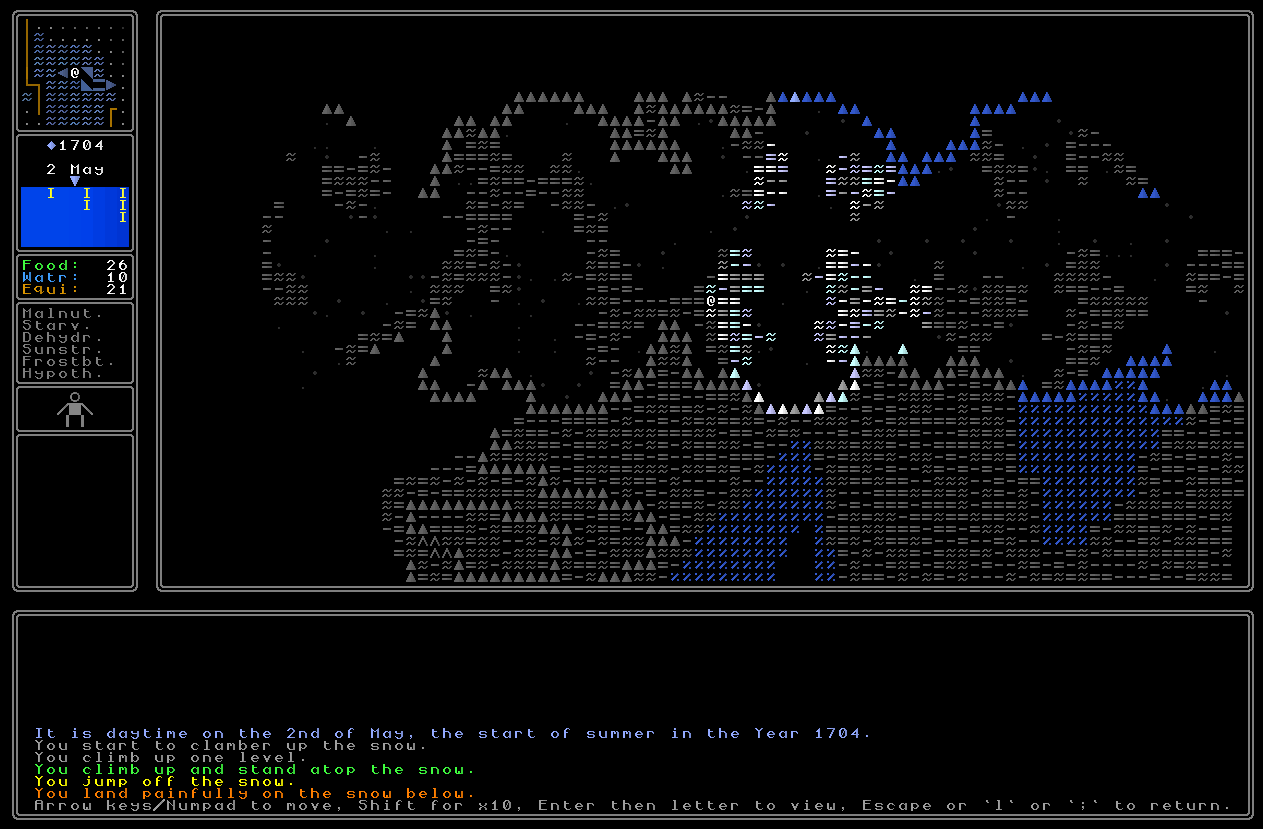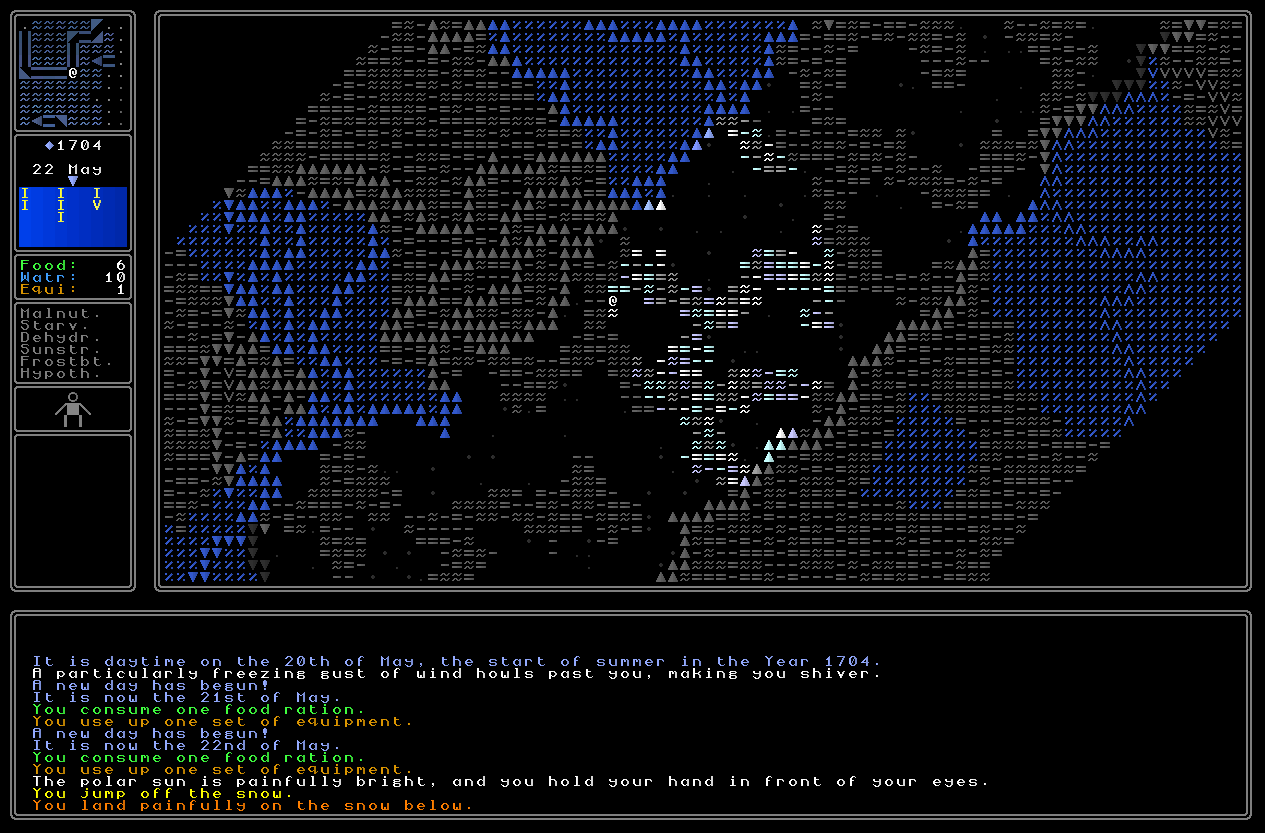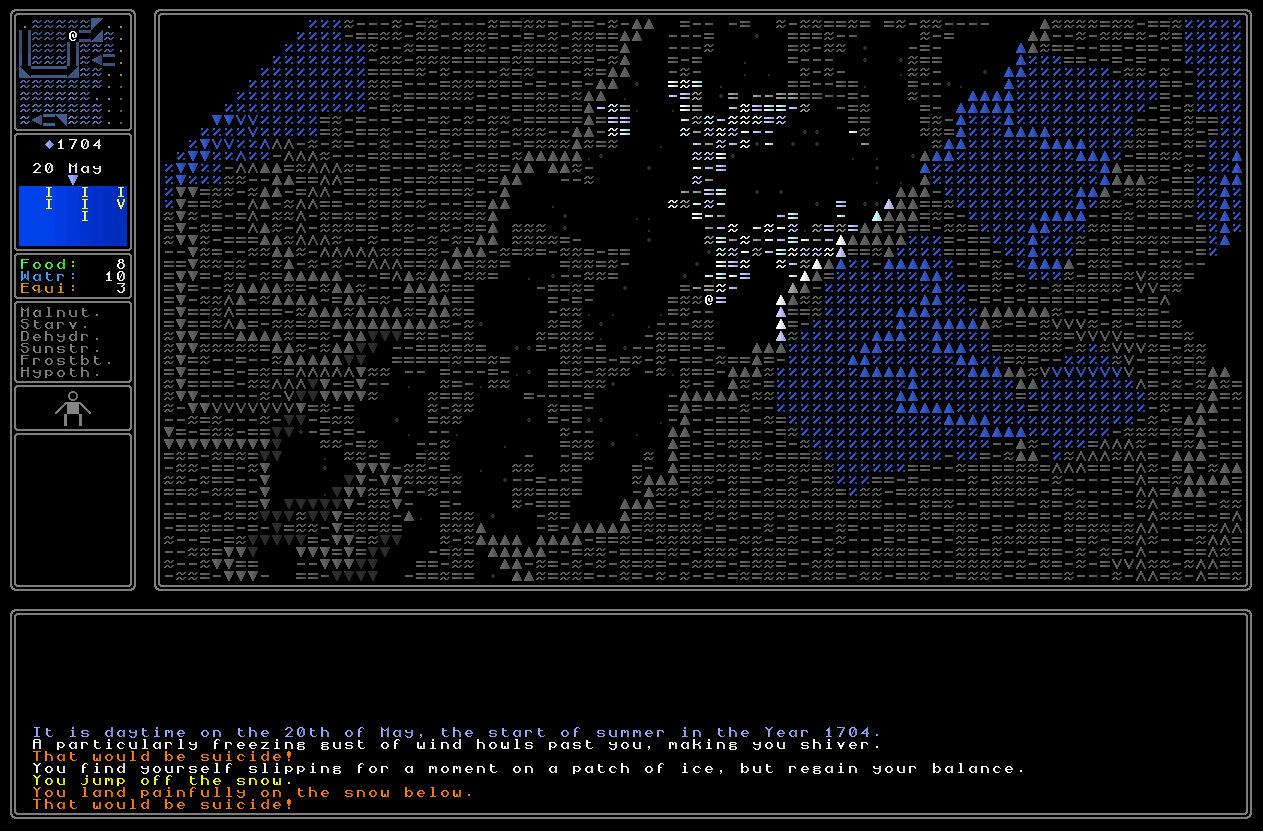 If you try to move into a pit / abyss tile, you get a similar message to what you currently get for trying to move into lava or water: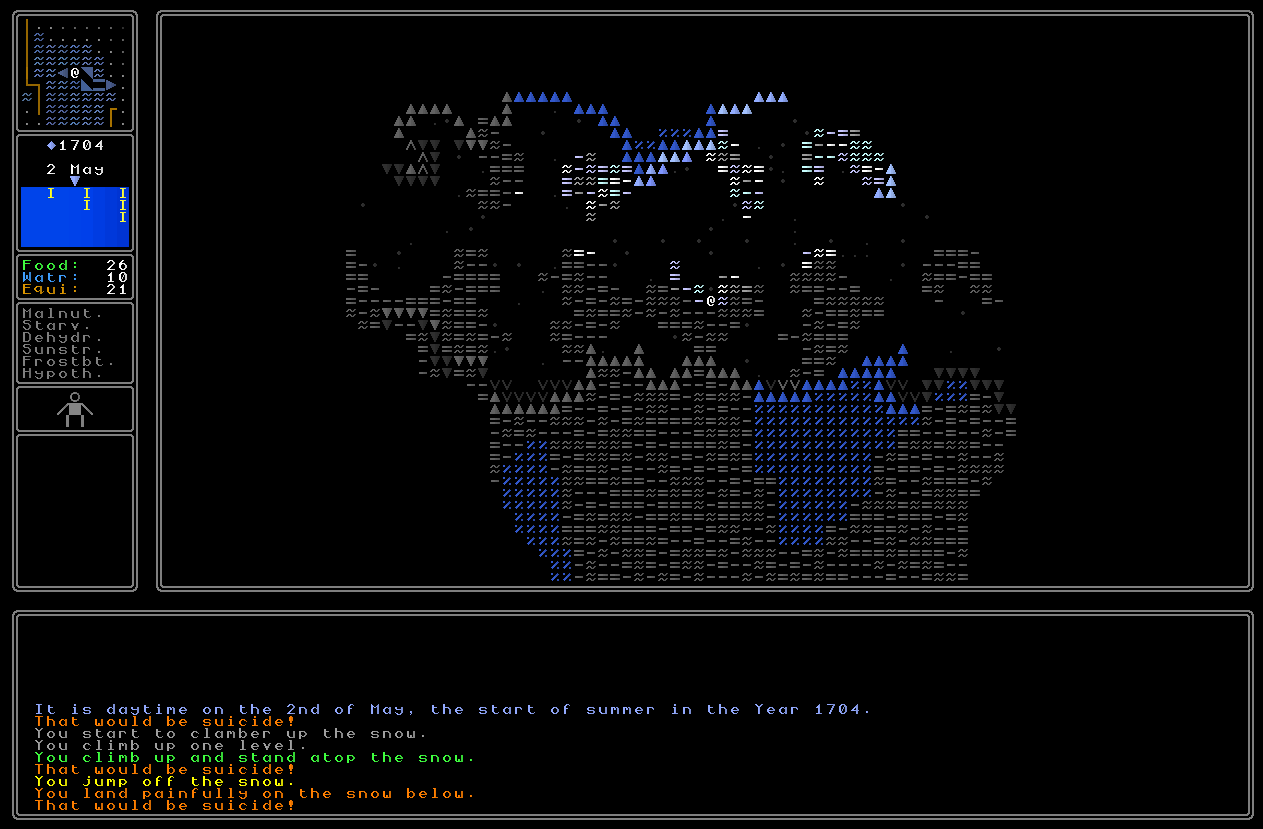 Doing a lookup on the abyss tile then gives you a largely empty lookup image but with a couple of wisps of air of smoke in the picture instead. This is totally different from any other lookup image in the game and although it's extremely minimalist, I really like how it came out. The text then offers some special information which doesn't give you the normal information about how many z levels above/below you the terrain is, but instead informs you that you're looking at something altogether different. Combined, this looks something like this: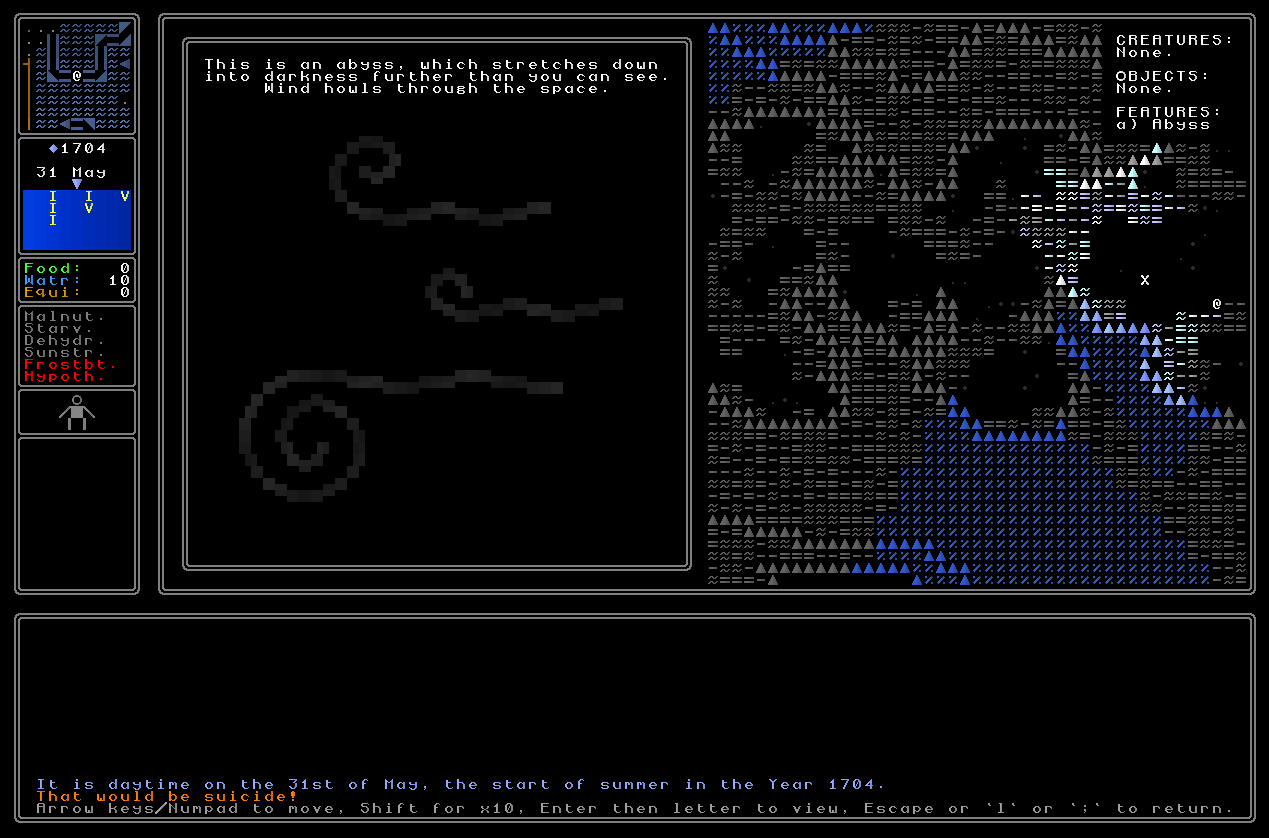 So there we go! We now have chasms on the world map and on the human-scale map, and a new abyss terrain type to represent some of the deeper pits here. One fun thing I will be adding in the future is allowing treasure maps to not just specifically point to locations where something is buried but perhaps also something where something must be done, and this could include a single, hidden, safe abyssal tile which one can safely jump down to reach a hidden area. Given that I would anticipate jumping into abyssal tiles (once I add that option) to otherwise be death, and there might be millions in the game world, this will again be another good little puzzle for the player to decipher and track down the exact right tile where something secret, and safe, lurks deep beneath the surface…
Statues
For many releases now the URRniverse has contained statues.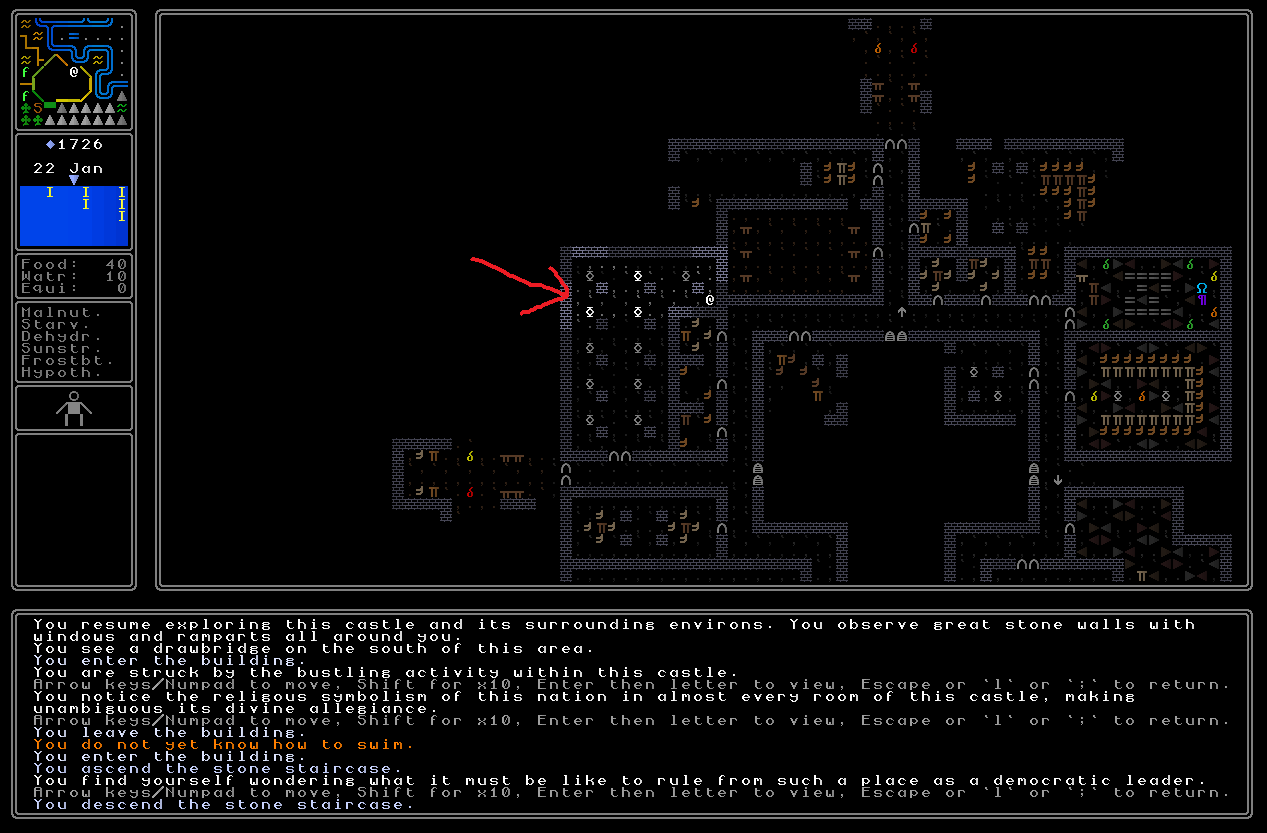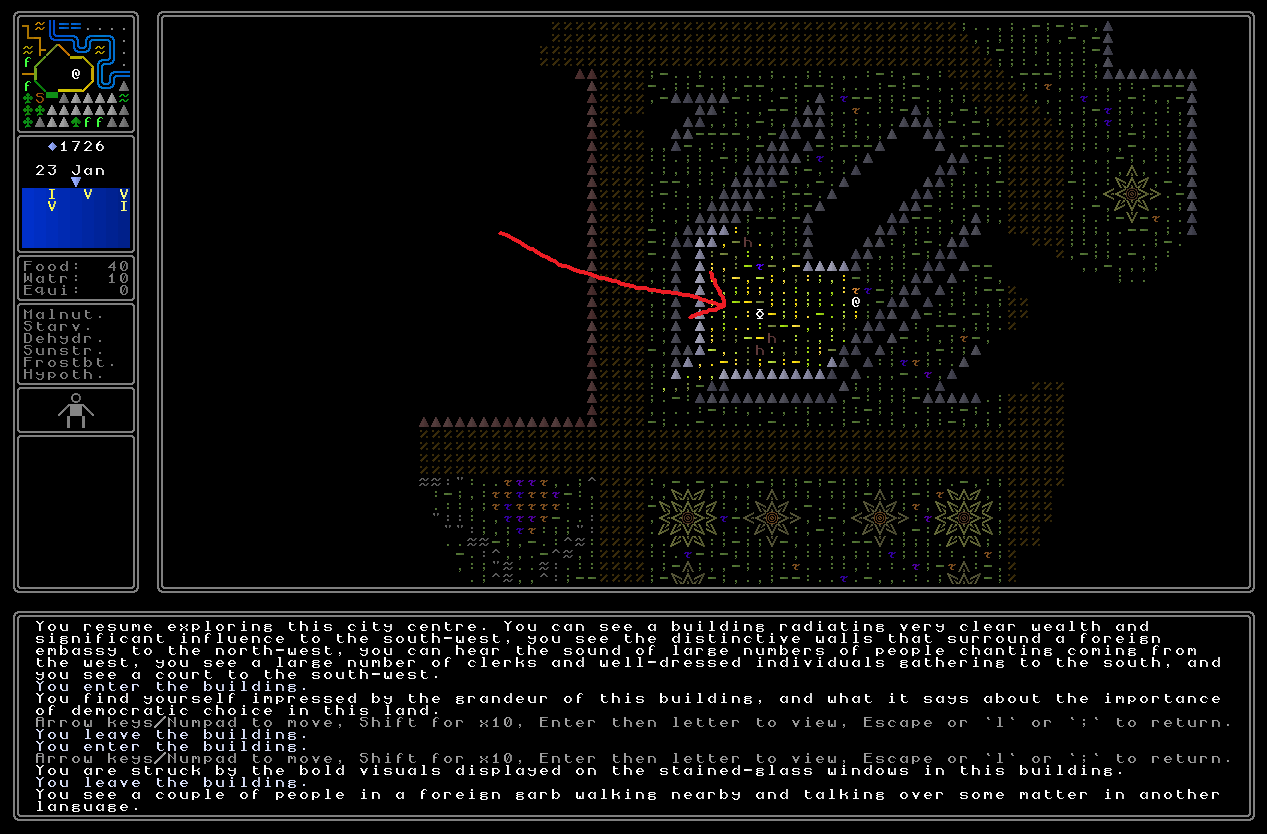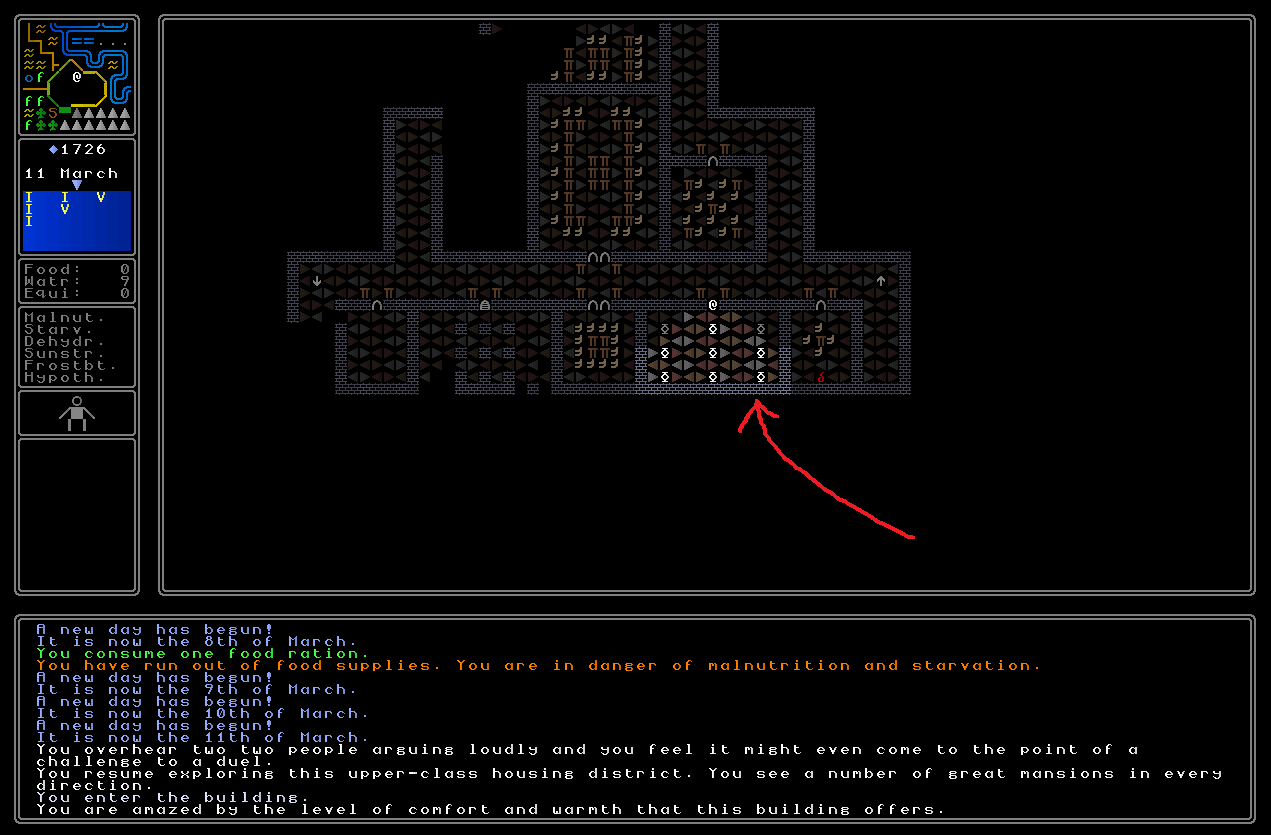 These could be found in various sorts of places such as castles, cathedrals, and also outside mansions and manors and generally all over the place. They are also one of the possible things which a religion can have in their religious buildings, as a potential alternative to things like vases, gongs, incense holders, and so on. They aren't one of the most common features though they are certainly far from rare. However, generating statues has been a pretty major task given the degree of variation I wanted in these, and the fact that for some of the statues they need to be potentially linked to in-game generated clues and riddles and the like (e.g. dig in front of a statue showing X, look at where statue Y points with its weapon, and so on). I've now come back to this – as one of the key goals of this release is really filling in the gaps of the game, a lot of which I've been reporting on in the previous updates – and statues are one such example. I won't be tackling procedurally generating paintings and murals in this release (that's even more demanding than statues!) but statues felt large enough to be something quite meaningful and substantial to add into the game, but also finite enough that they could be tackled in a week or so of work without detracting from many of the other core objectives of 0.11. As such, I'm pleased to present the first three categories of statues! More might indeed find their way into the game in the future, but for now there are three main statue generators, and they are as follows:
Religious statues
Firstly we have religious statues. As above these can sometimes be selected to spawn in religious buildings, with particular religions choosing to have statues in their holy places rather than the other things that can appear instead of them. At the moment they are devoid of an image, but no longer! The game now takes the aesthetic shape preference of the civilization they're spawning in and uses that to create the basic outline of the statue, and then fills it in with dots with various degrees of spacing. The main thing the game then does is to take the symbol of the religion in question, enlarge it, and etch it onto the statue. This might seem relatively trivial, but the complex part is that the religious symbols are stored on a grid with an even number of tiles both vertically and horizontally, but all look-up images have an odd number of tiles (again, both vertically and horizontally). This meant I had to create a rather complex system for translating an even number of tiles into an odd number of tiles to then fit into the religious statue; looking at the bottom-left of the examples here might give some sense of how this worked, but essentially it meant breaking each religious symbol into 2×2 blocks and then translating those into 5×5 blocks to insert into the statue, but also doing it differently for the edges… it was a whole thing, but I'm super happy with the final result.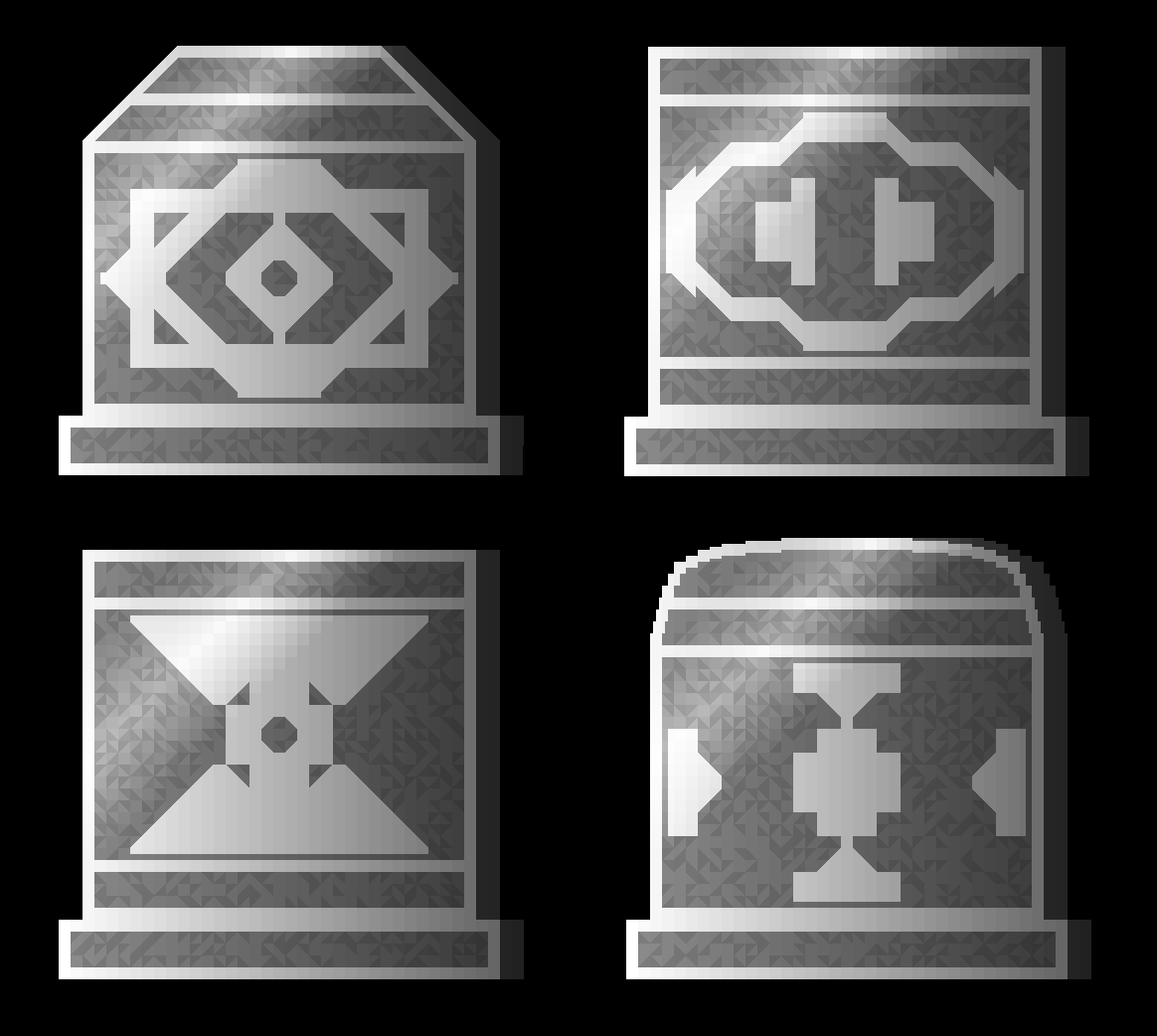 These therefore now appear around some religious buildings (although I think I'll move these to outside and put the god statues I describe below on the inside), and add a little more flavour to each area, as well as giving more locations the game can use to craft descriptions, directions, clues, puzzles, and so on: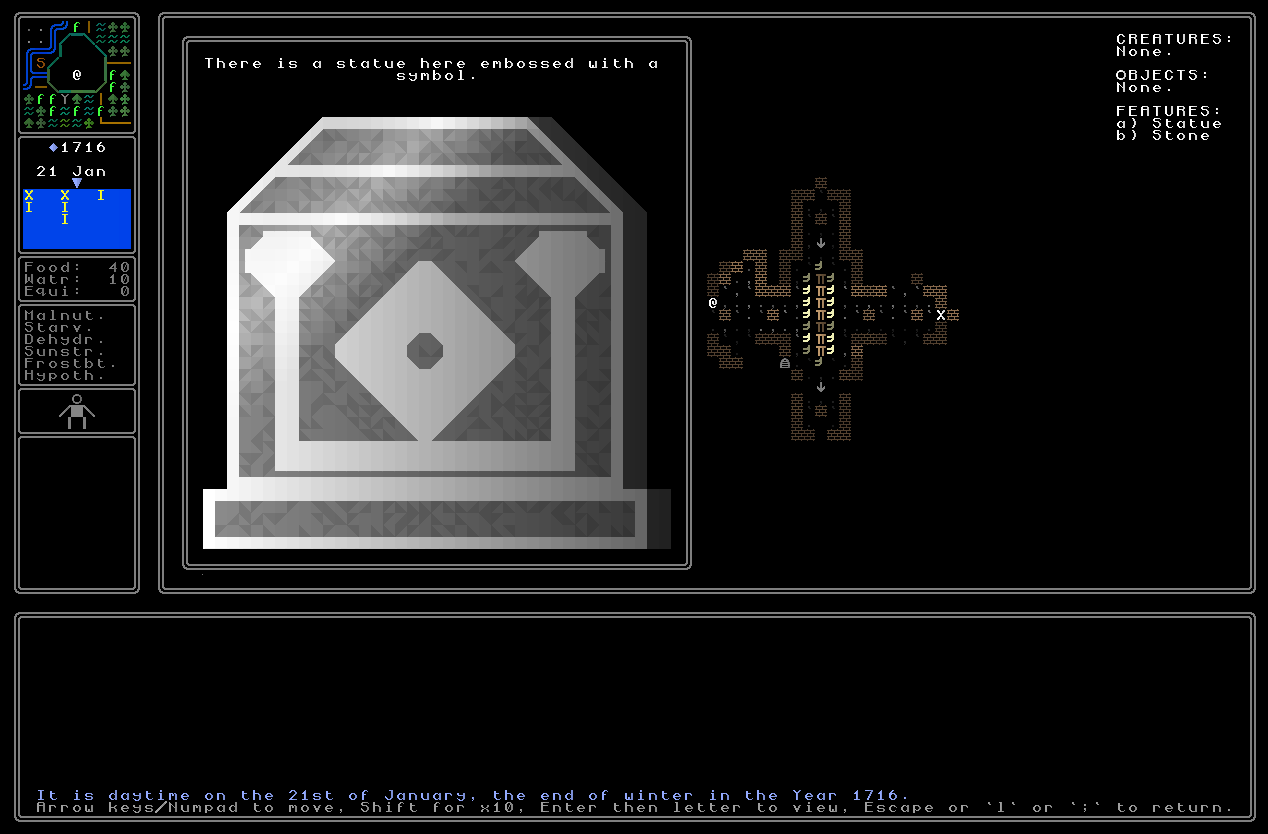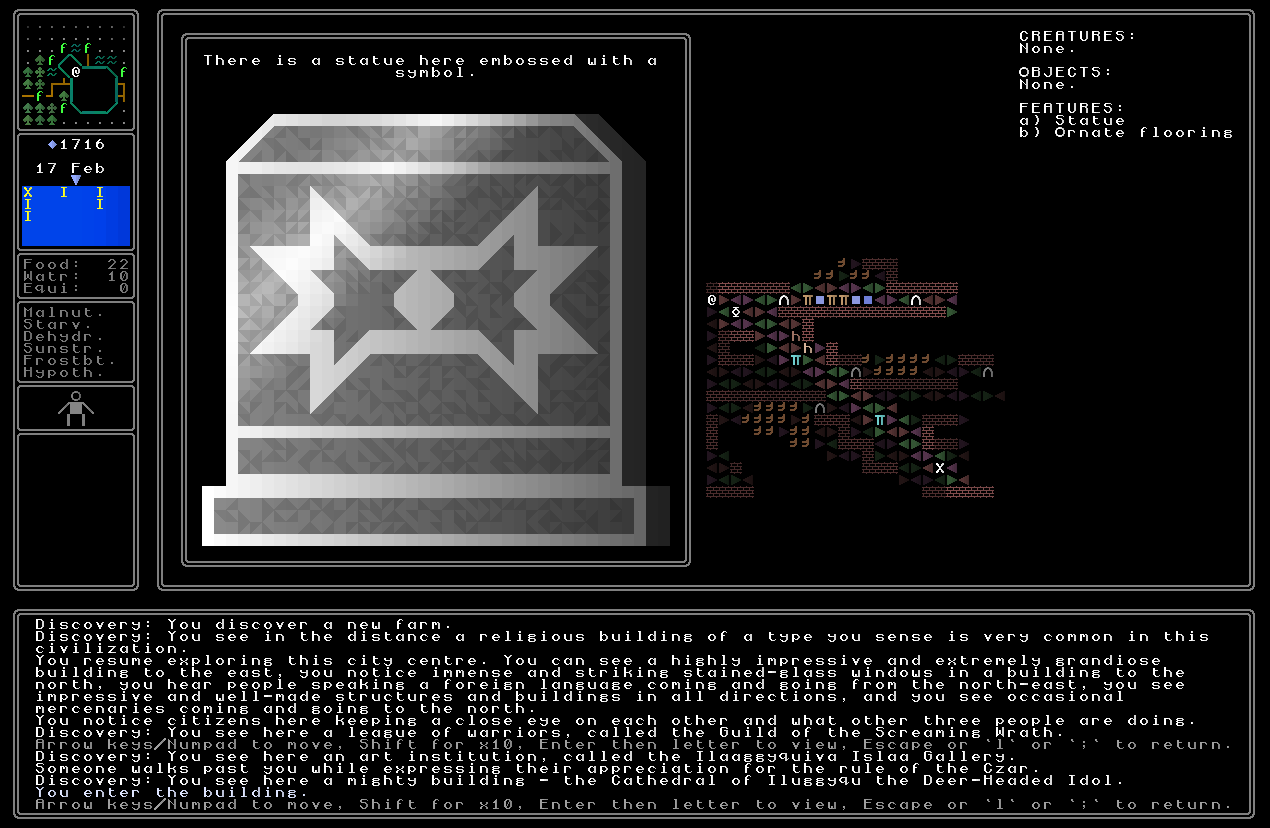 Person statues
Secondly we move onto statues depicting human individuals. It should be pretty clear how these will tie into the game's cryptic puzzle generation – imagine reading a description of a person in a generated book, and then finding the generated statue that represents that person because you know something important was buried at its foot, or maybe it hides a secret entrance! These are however quite a bit more complicated than the religious statues (and more complex than the generic civilization statues I discuss below) so these have been the main chunk of this part of developing the game's visuals. I started off by having various sorts of torsos such as robes, or armour, or ordinary clothes, or rags, and so forth. Each of these then has a number of different variations within its overall category in order to further promote the diversity among the statues while still clearly making them belong to a given type. In turn there are a range of different heads, some of which are quite simple defaults – helmets, hats, bare heads, and so forth – but others are slightly more esoteric. Some of these statues also have to take on the roles for gods and so there are a number of rather more unusual heads, such as strange horned ones for demonic gods, animal heads for the animal-head-god religion archetype, grotesque ones for Lovecraftian gods, things like flowers and trees for nature religions (not yet fully implemented but gradually coming into being), and so on. The bottom platforms and their necks then also vary – this is a minor point yet I feel compelled to type it – and then the major variation comes from what they hold in their arms. At present the game has over a hundred possible things that gods can be described as holding in their hands, but unfortunately around half of these are way too abstract to actually meaningfully portray (e.g. "a whale skull", "a glow of moonlight", "a strange pattern", etc). I therefore went through and culled these, leaving just those I could actually show in the finite number of tiles I have available, and which could be unambiguously X and not Y (e.g. I previously had "the earth" and "a planet" as options, but these would be too similar, so I removed "a planet"). I have to say that I absolutely love how these statues look, and again they'll add so much to the world and to the potential for generating puzzles involving them: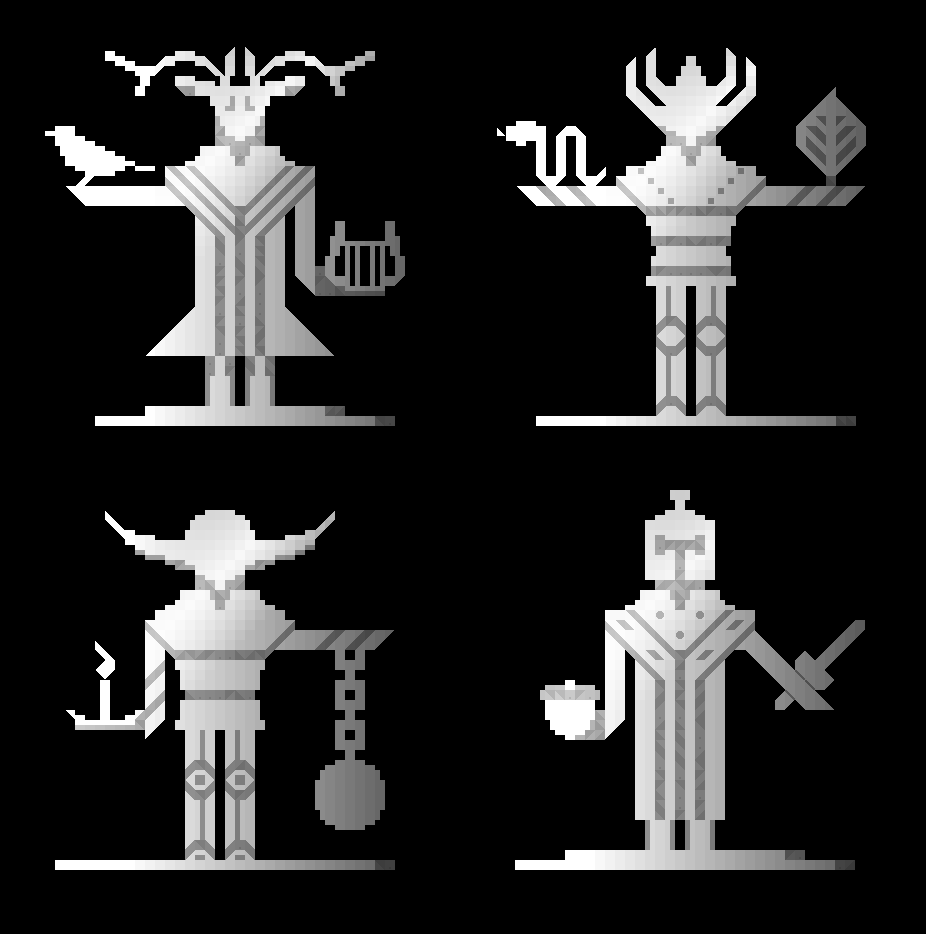 And of course each of these is linked to the appropriate religious or historical description, e.g. for the top-left one, you might get "Jarrun, the Dear-Headed God. Appears in a rich robe, supporting a bird in his right hand, and holding a harp in his left…". By my count there are around four million possible statues which can generate, all of which can of course also have logical text to accompany them (though it'll always be found elsewhere – looking at a statue will never much more than "There is a statue here", or something similar. Indeed, here therefore are a bunch of the historical figure statues which can now be found and inspected at various places in the game world, and which connect to for example religious figures and their descriptions by religious adherents, and which will soon connect to descriptions in books, and so on…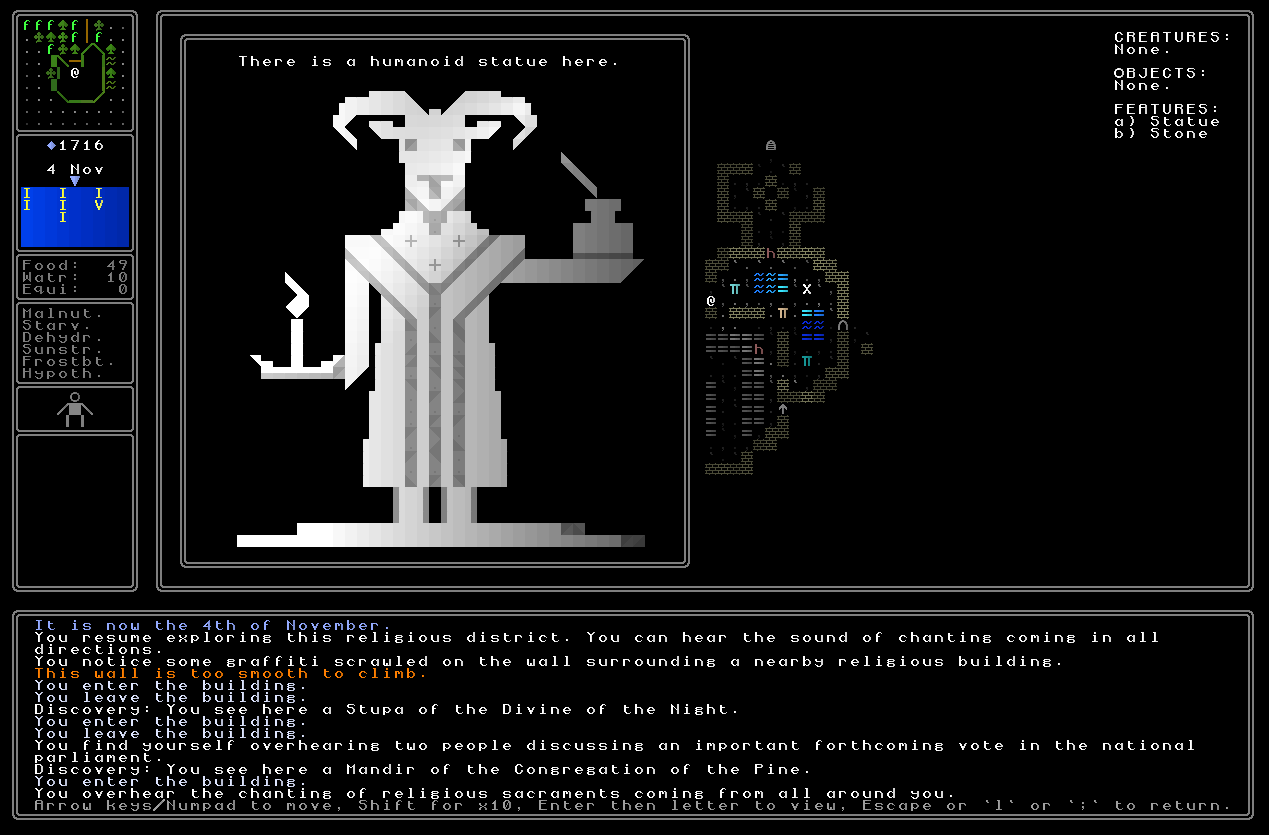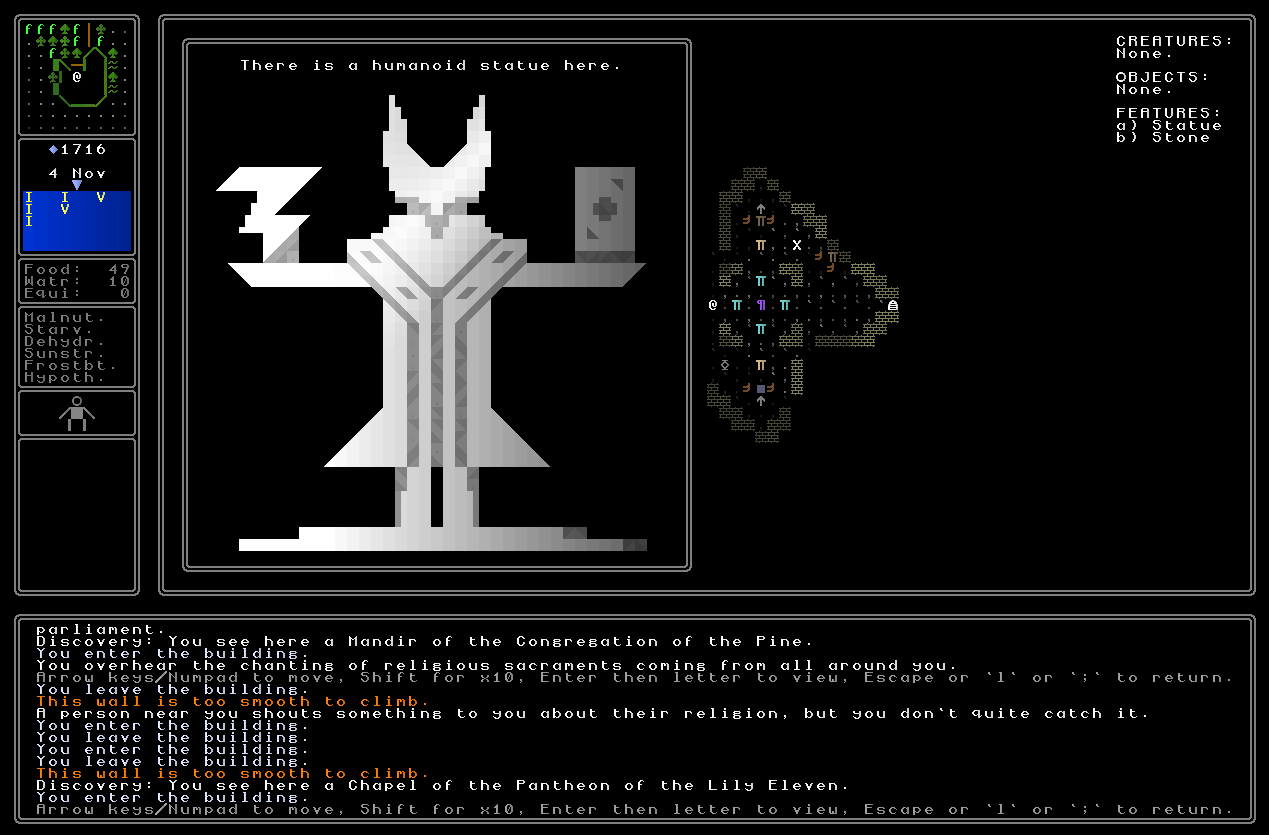 "Default" national statues
Lastly (for now) we come to statues which are somewhat more generic than both of the above options, and are essentially for decoration within a given civilization. I debated making a civilization's flag be the core of the image but this didn't really work in the same way the religious symbols do – those are very clearly black and white, two shades and two components, whereas a flag can have many colours and many pieces, and it was unclear how to represent this in a two-tone statue archetype. Instead, therefore, I decided to pick one of the default aesthetic shapes for a civilization (the usual square, cross, circle, diamond, octagon) and create some rather more abstract / geometric statues to reflect that. There are no more than five civilizations with each shape choice in a given world, so I created five permutations for each shape so that even two nations who share the "circle" aesthetic preference will still show up with different statues. These sorts of statues might therefore be found in places like castles or the courtyards of mansions and the like, and although less striking than both of the above examples, I think they again lend more detail and variety to the world, and can again be utilised by the game as points of reference for other things.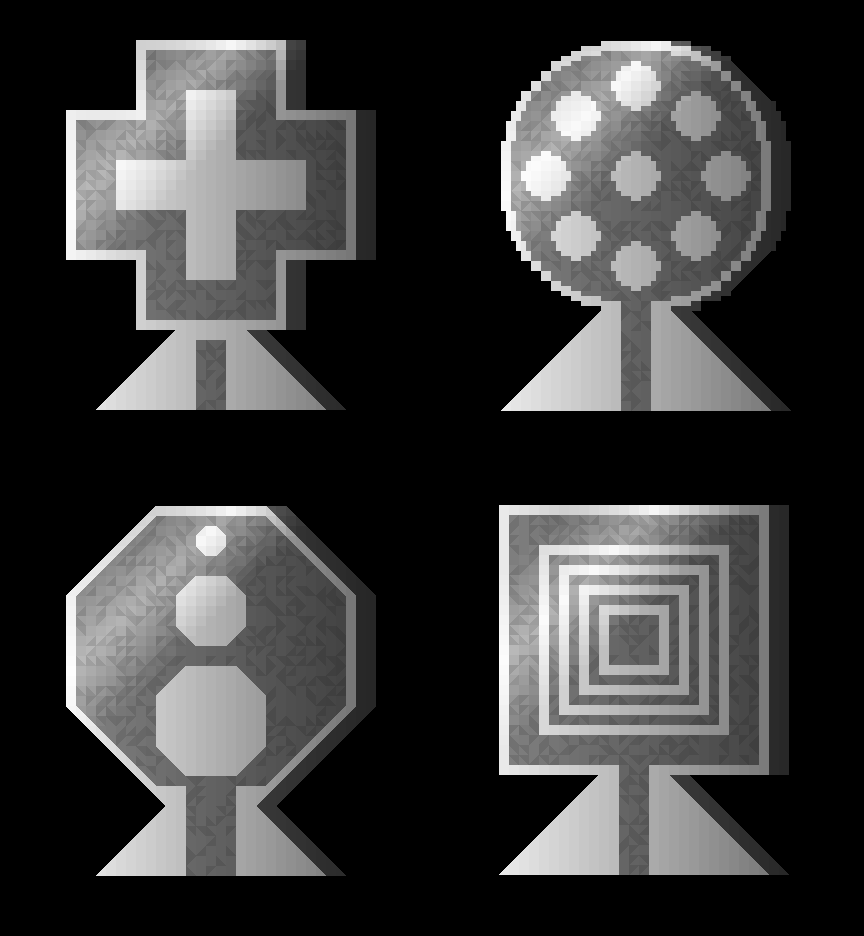 As such, here's a bunch of these statues found in various locations within a generated game world: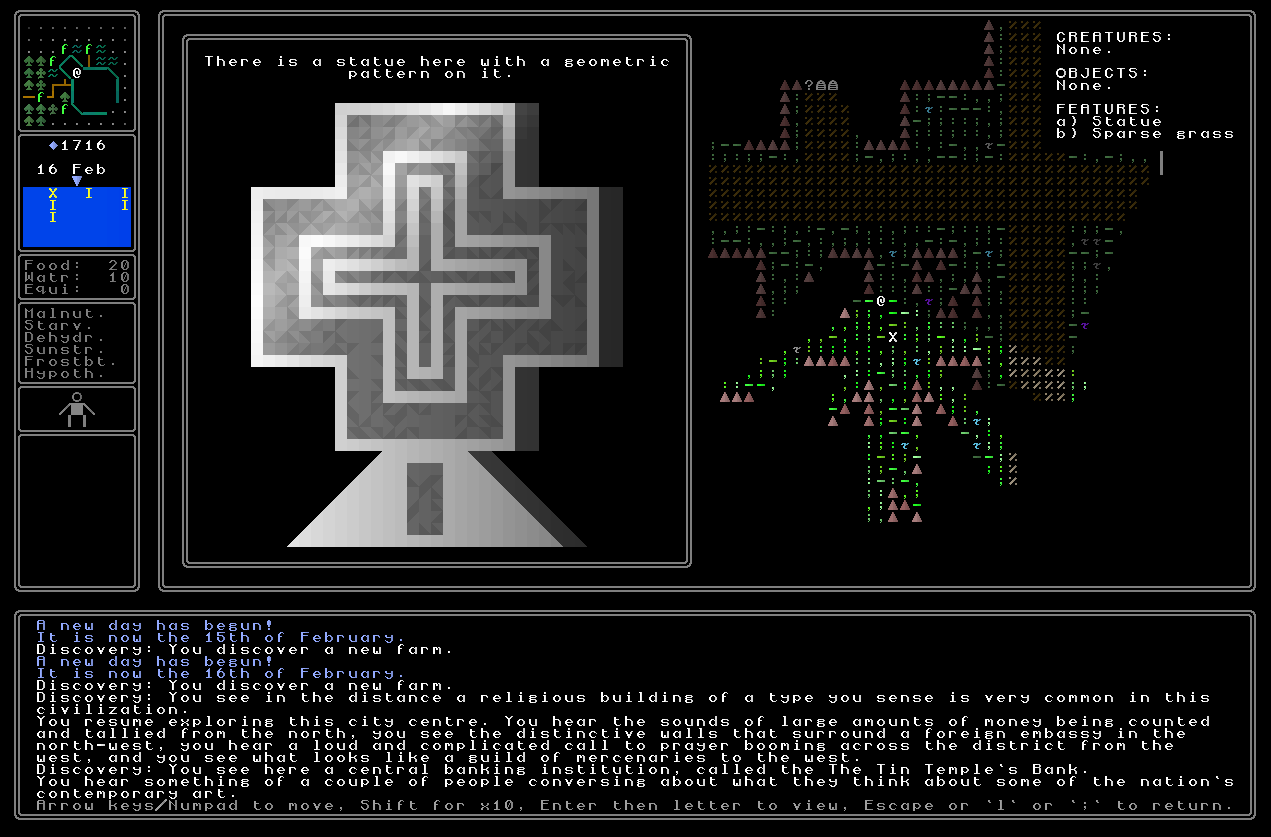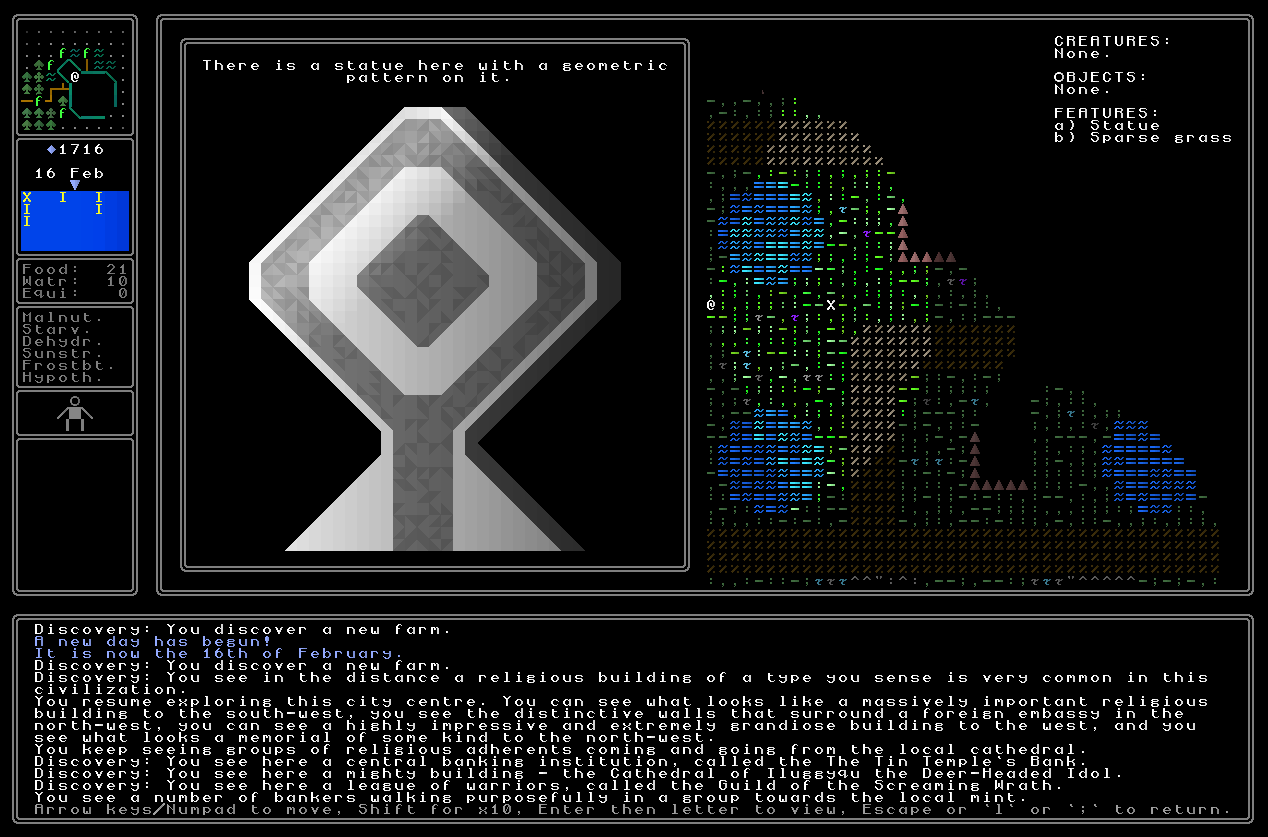 Mesas
Deserts – much like the polar regions – are some of the most empty regions of the game. This obviously makes a certain amount of sense given that they are deserts but I've decided to add in groups of mesas (very much inspired by those in Death Valley and similar real-world locales) that can sometimes appear in deserts. The game therefore now attempts to spawn either two or three groups of mesas by trying a couple hundred times each to find a block of desert which can fit a reasonable number of mesas in, which is to say a reasonable number of tiles containing no river, settlement, oasis, or anything else. This only takes the tiniest fraction of a second during world generation and it generally manages to place all the two or three sets that the game is trying to place – it's very rare for their to be insufficient desert, or overly busy desert, such that the mesa clusters cannot spawn – and then it put the mesas on the map. Just as mountains on the world map appear as upward-facing triangles, mesas appear the same, except in the usual desert orange (instead of grey/white for mountains and red/brown for volcanoes) so that there can be no ambiguity over what they are. Here's an example of a bunch of them I found in the map in a recently-generated world: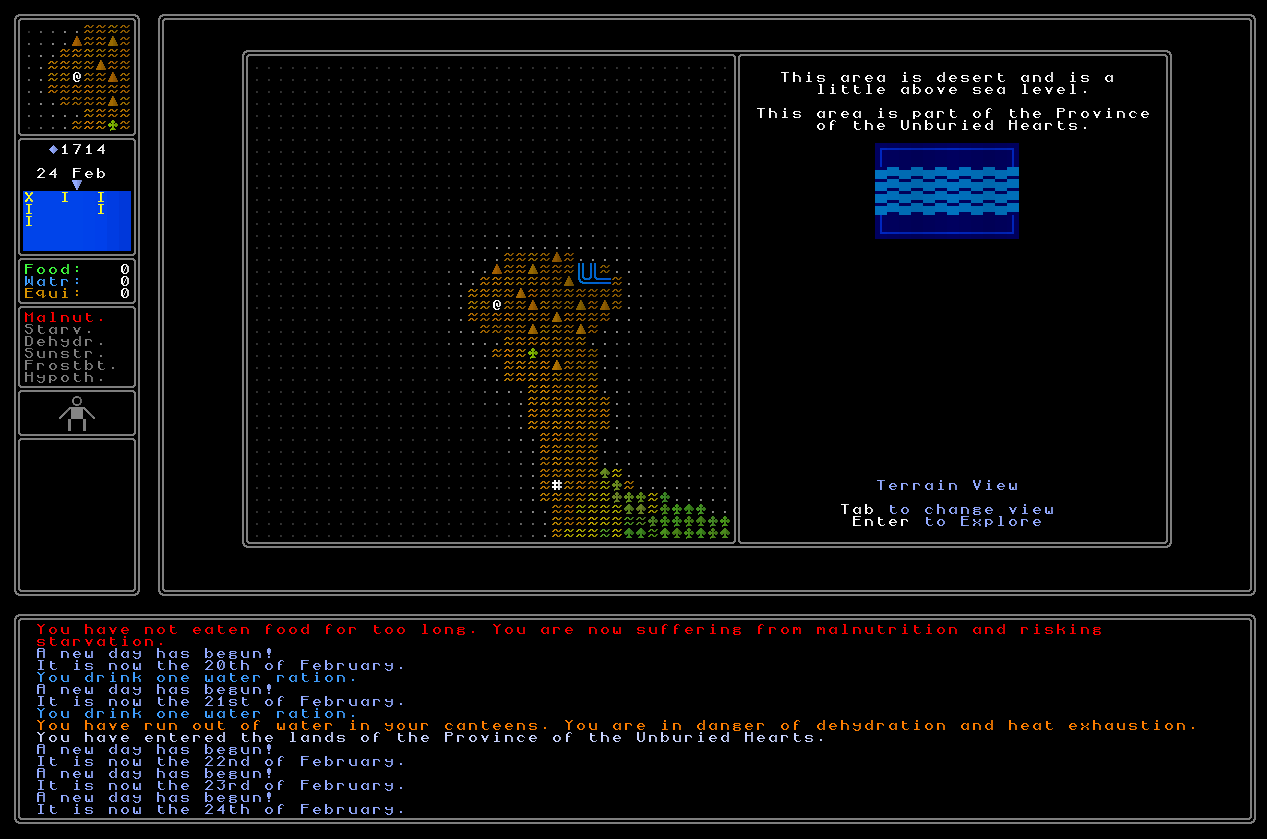 And here I am climbing up one, with the terrain gradually shifting from sand to stone as we climb higher and higher up: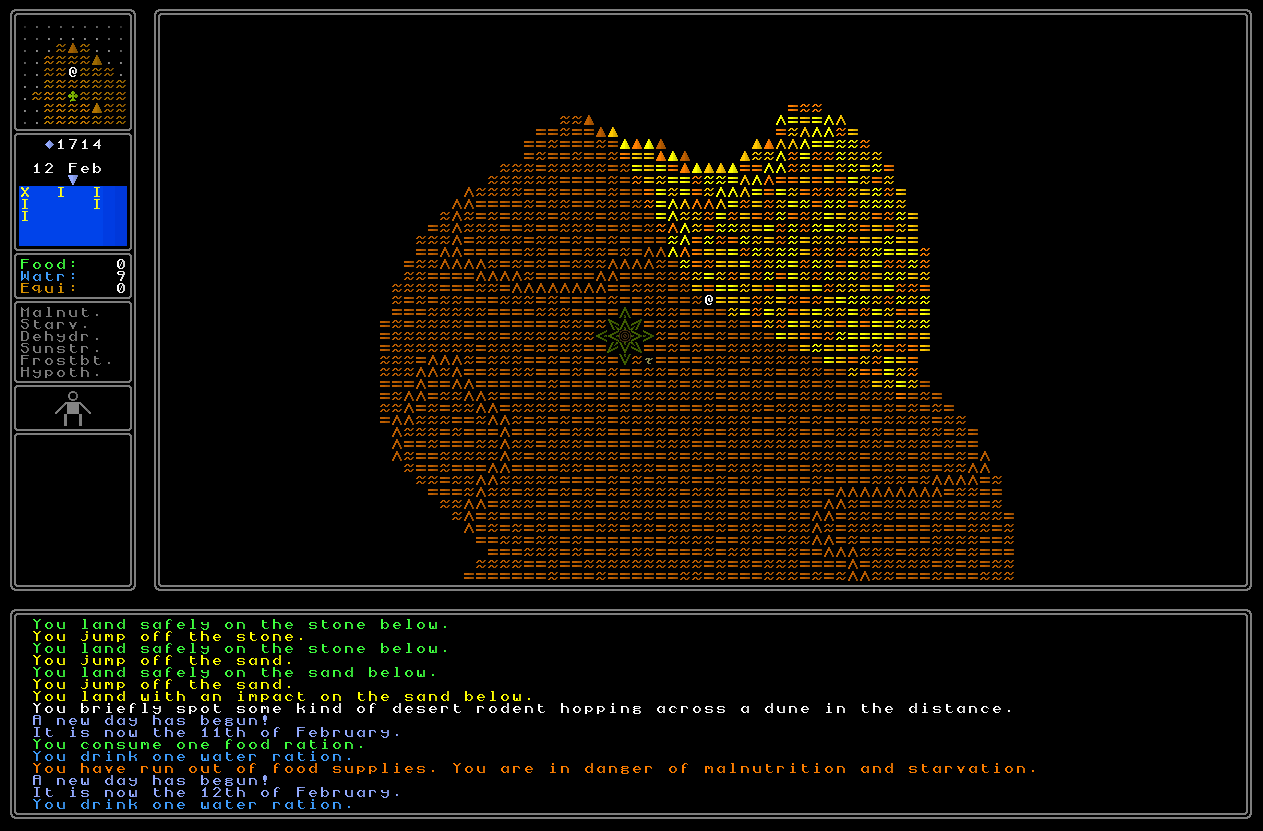 Again, soon mesas (like everything else!) will be valid locations for treasure maps to point to, NPCs to talk about, and so on…
Lower class housing
In continuing to try to make every city and every settlement as distinct as possible, I've updated the lower class housing districts in cities to make them significantly more varied in their layouts. Previously there was a particular algorithm that I was using for placing ordinary homes in these districts, and while things like the soil and the plants and the trees and the colour of the bricks and so on varied across cities, the layouts generated for these districts were all pretty similar. As a result I've now added in three more potential generators and these are all, I think, nicely different from the alternatives. In these screenshots you'll see the normal one which has now been in the game for years, and the three other new ones I've added as alternatives – the generator used is consistent across a civilization, but is randomly selected for each civ: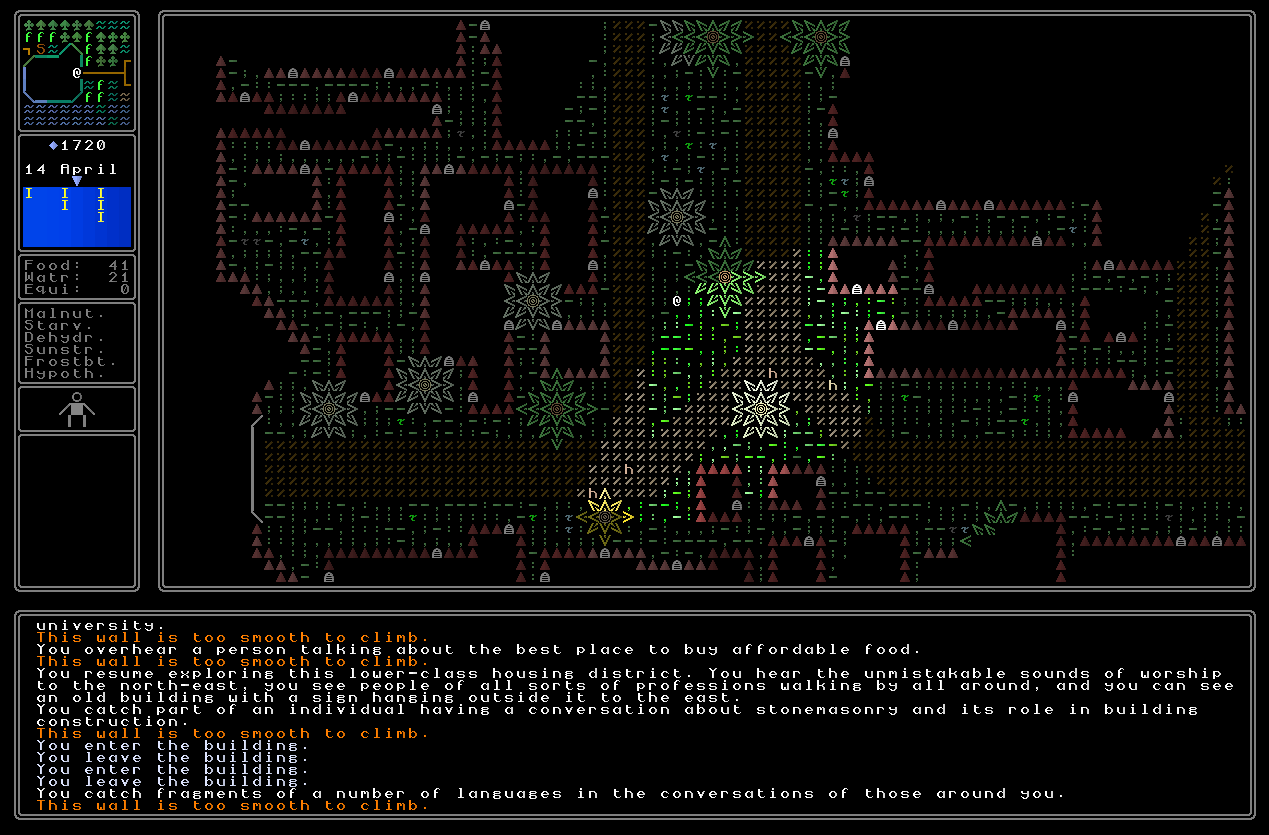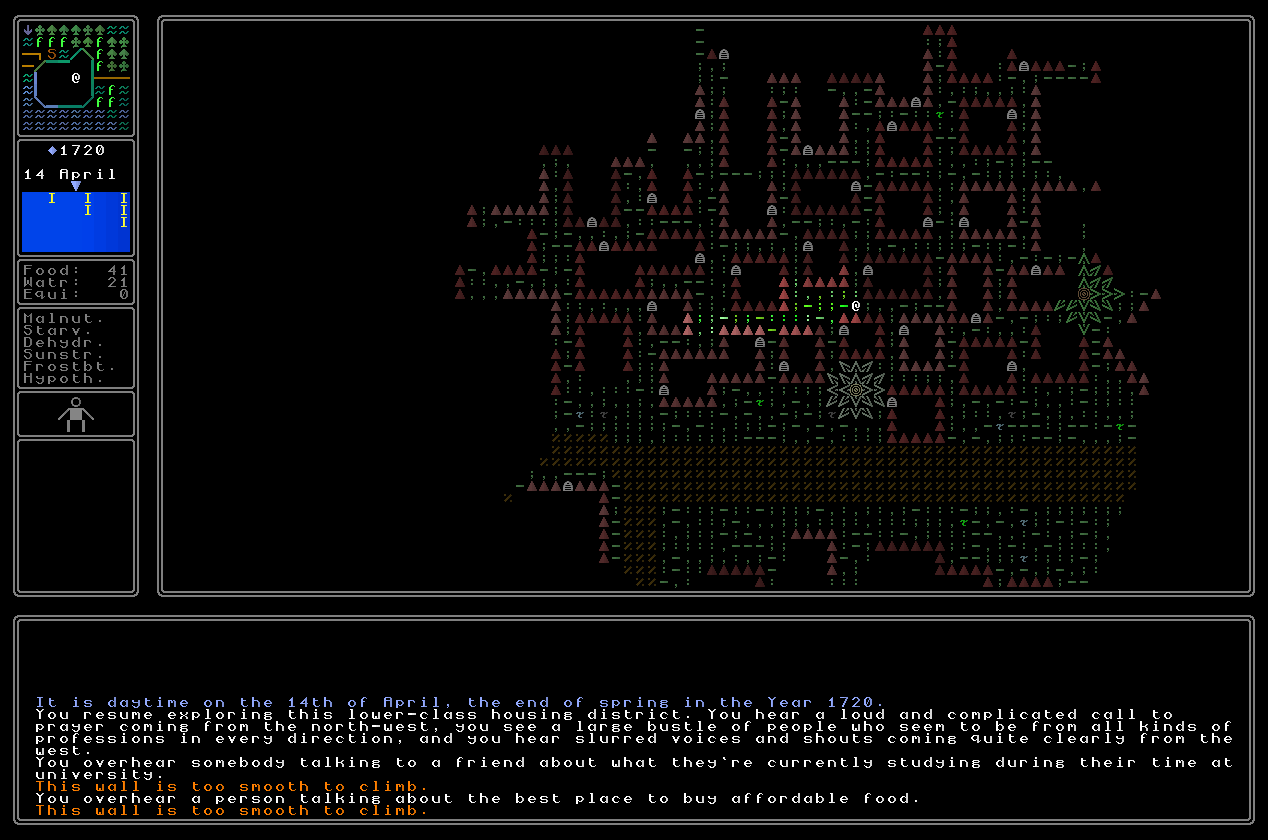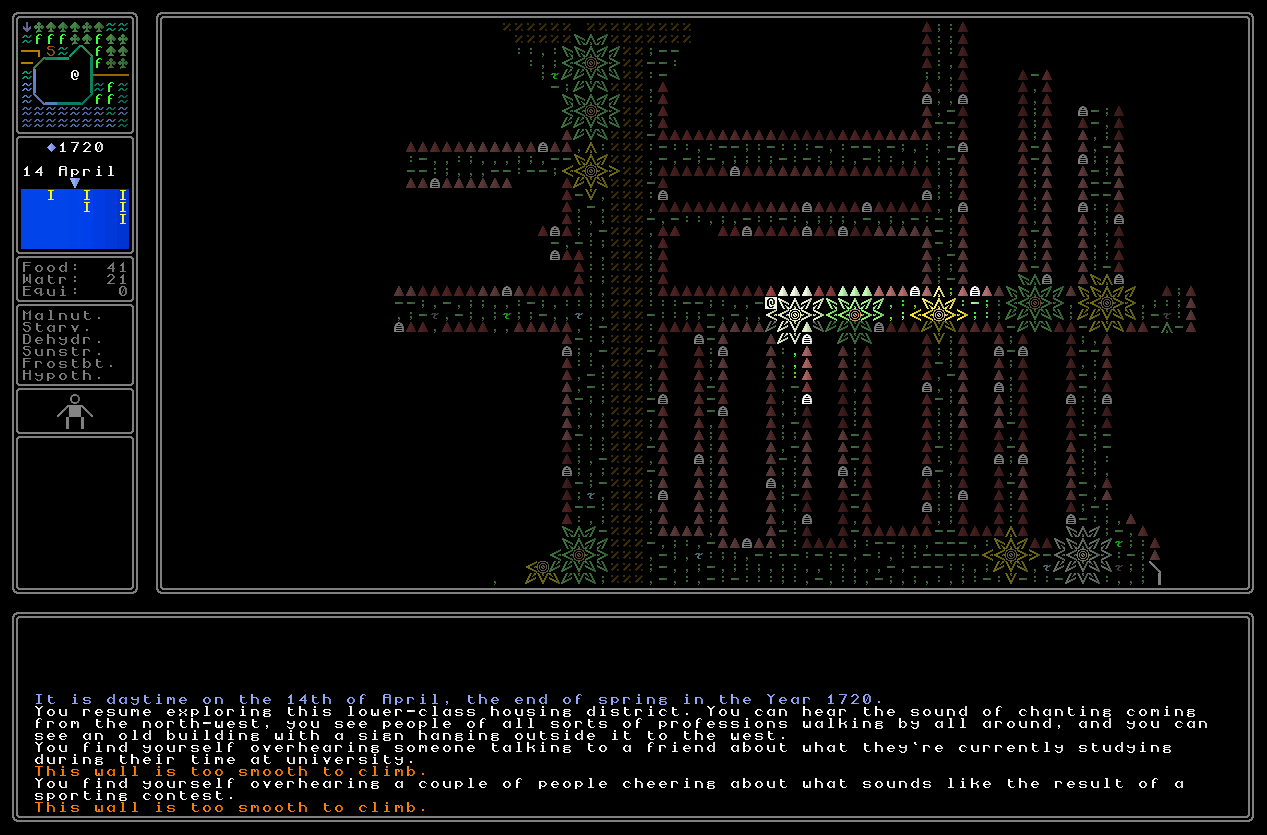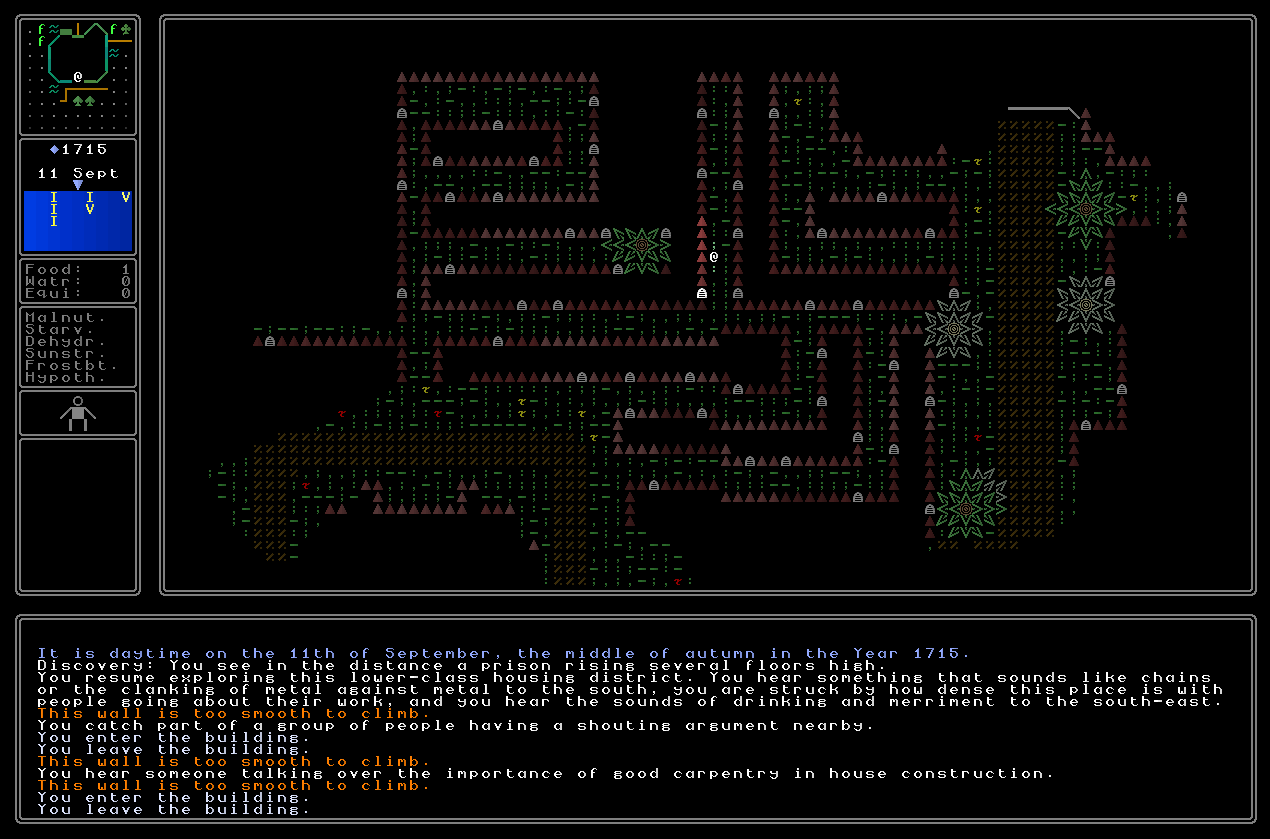 (As a side note, I'm not quite why the trees are in such a straight line in the third of these four pictures, but that has been added to the bug list to be resolved!)
Bugs, fixes, etc (a lot this time!)
Fixed an issue in book generation with some words being squashed together / lacking spaces in the philosophy book archetype, leading to things like "Thoughts OnThe OntologyOf Things", and so on.
Signs on buildings in city centres now have a much higher contrast between their text and their backgrounds, making them far easier to read and much nicer to look at.
Fixed some issues with colour usage in the canteen management screen which would suggest that you could empty out, or combine, an empty canteen with something else.
Resolved a continuing issue with the weights of heavier items (i.e. over 9 weight units) not showing correctly in some contexts.
Mines can no longer spawn on rivers, which would somewhat mess up how I intend for mines to generate later on.
Generic NPCs now spawn and walk about in and go about their lives in castle districts as they do in other districts (i.e. going in and out of homes, gates to other districts, etc).
Fixed a crash bug where entering a granary or an icehouse would sometimes instead try to generate an almshouse, leading to a total collapse of the game's space-time continuum into a one-dimensional point-like manifold as a result of trying to cram a larger building inside a much smaller one.
Made sure that the "Crypt" fast travel option does indeed correctly appear when you're trying to enter a graveyard.
Monasteries do now tell you what side of the monastery the entrance is on when you enter their map tile, much like castles (both are such large structures that I think it's appropriate to give the player a little hint about how they can actually find their way inside).
Ambient messages for graveyards now only trigger when you are actually inside the graveyard rather than walking around outside, which otherwise made messages like "On a nearby grave you see…" a little bit strange.
The names of long civilizations now show correctly in the dialect part of the speech window (this will also be updated soon when I come back to the conversation system for a second, better, pass over the whole thing…)
Very long item names now no longer sometimes linger on the game window after you stop looking at them.
Leaving the "Policies" window (showing you either the policies of your home nation, or the policies you know of the nation you're currently in) now correctly redraws the rest of the screen.
Treasure maps no longer magically close themselves when you drop them on the ground, showing the "?" graphic instead of their actual details. The game now shows a map you own correctly whether it is in your inventory, or dropped somewhere else.
Desert oases (i.e. a "forest" map tile within a desert) now actually spawn oases again (i.e. a lake with a bunch of trees and plants growing up around it), rather than just spawning an empty area of the desert like the rest of the desert.
What next?
See you in 3-ish weeks for the next 0.11 update! 🙂