Hello friends! Let us begin this week with some exciting news: 0.8.3 is on its way! I have been working on it for the last couple of months and – unless it contains some kind of monstrous bug I need to fix with a quick 0.8.3a – this will be the final release in the 0.8 sequence. Alongside some continued bug-fixing its main new thing is that it contains 3 new policies, one of which is a new religious preference called "cultism". This is one that appeared years ago before I'd really fleshed anything out, disappeared because it wasn't doing anything, but is now coming back, because I've found a way to make it work.
Essentially this religious policy doesn't spawn churches or cathedrals or whatever, but instead private (or public) shrines, inspired by Roman sacella, in various places such as parks, or in city districts, or in homes, important public buildings, and so forth. Each civilization will have a number of cults that might worship anything from particular sites or architecture, to particular nature phenomena, to animals or plants. Some of these I don't want to give away just yet, since they speak to another future feature, but to give an example of the animal variants, if the "Greater Scrabbling Ground-Beetle" is a particularly common insect in that area, than it might well be the insect worshipped by the cult, and if the "Hissing Blue-Snake" is something the people of Civilization X are particularly aware of, then of course that might be the specific creature the cult worships. They might also worship castles or parks or planets or the sun, and also a number of other things that I'll talk about more at some later point.
As part of this I've created a lovely new generation algorithm for the cult shrines. Here are some examples!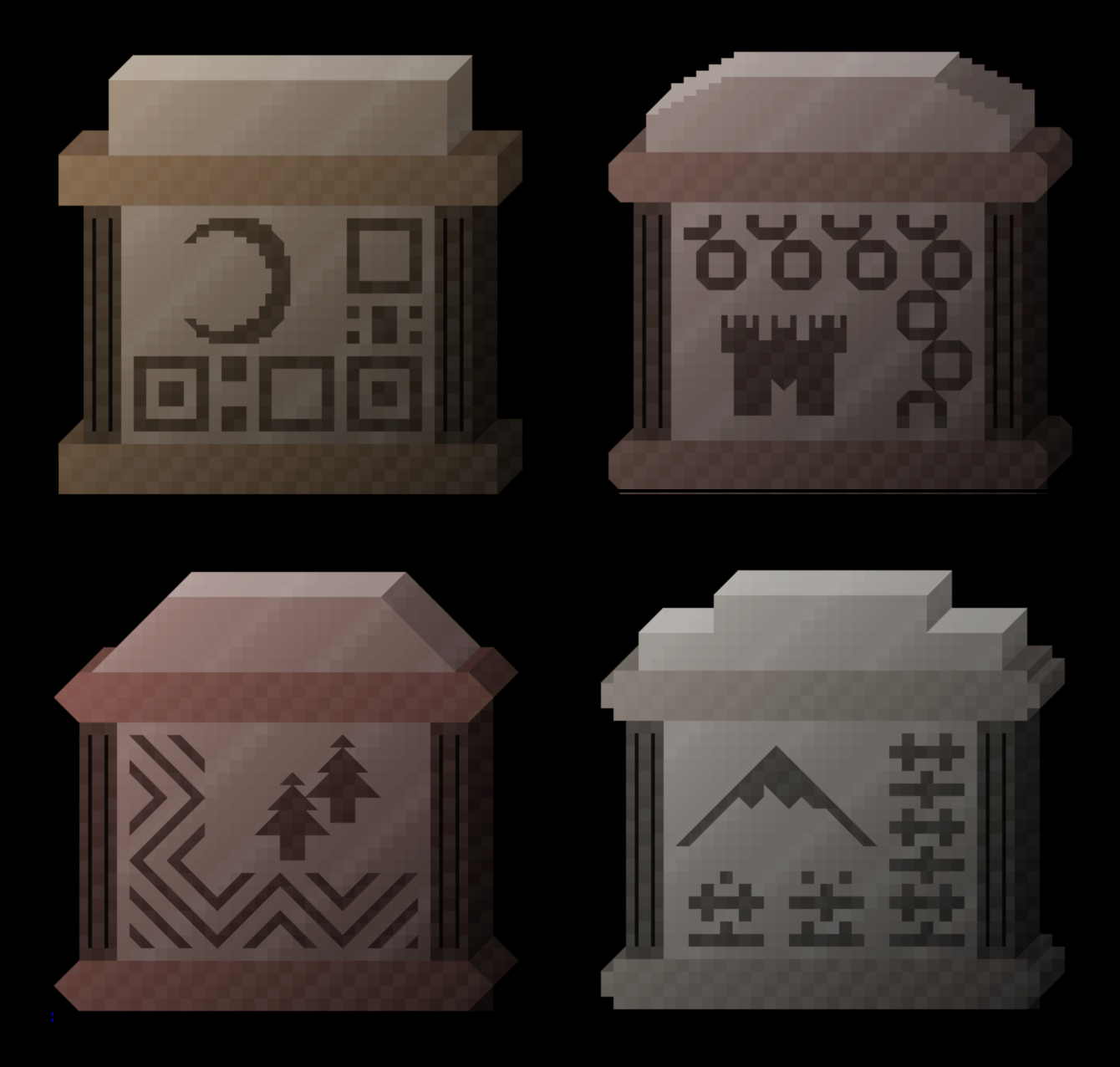 As with so much they reflect the aesthetics of the civilization that spawned them, but also of course the thing being worshipped, so clockwise from top-left, these come from nations that like square, octagonal, cross, and diamond aesthetics, and these people worship the moon, castles, mountains, and forests. This of course also brings with it lots of new conversation options and so forth for NPCs, which I'm working on finishing off at the moment – and I'm hoping to release 0.8.3 before the end of May, or if not, then right at the start of June. See you all soon!